Breeding Services
California Chablis
Click Here to see photos of Chablis and his foals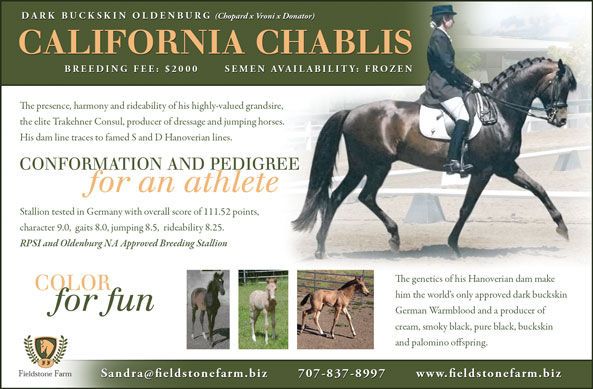 Chablis - Oldenberg 2/23/1999
Chablis completed his stallion testing in Germany, September 2003. Chablis is from the Consul line, Consul was Trakehner Stallion of the year and Elite Stallion of his breed. He was a premium stallion at the 1983 Oldenburg Show Frankfurt, as well as, two-time Dressage National Horse Champion in 1983 & 1984. Consul's Genoype is highly valued today. Chablis has inherited his great mind & rideability. He is also an outstanding jumper with incredible moverment.
Chablis's dam line is Hannovarian and Vroni, his dam, was the last Palomino registered Hannovarian. He carries her genetics which include cream, smoky black, pure black, buckskin and palomino. Chablis is the only approved German Warmblood dark buckskin in the world.
In the dam line, the Szene by Sekundant is the famous S line of Hannover going to Sender - Semper Idem/Trakehner and the Diabas and Diadena is the famous D line going to Duellant. He has several line breeding to these S and D lines which makes him of great interest together with the famous Trakehner dressage lines he has.

Chablis preparing for an FEI show, Ridden by Brian Hafner.
This pair won many honors and top placings at CDI and National Shows at PSG and Intermediare 1.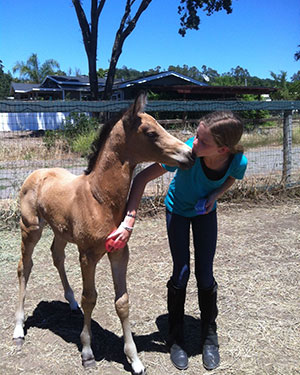 Chablis' 2013 Filly, Casila
Chablis's Pedigree
Click here for Chablis's Complete Pedigree
Click Here to see photos of Chablis' first foal crop - Charming Lady GF and Chardonnay GF
Chopard/Trak
Rockefeller
Consul
Swazi xx
Cornau
Rauhe
Donauwind
Rastenburg
Cecilie
Marsilio xx
Masetto xx
Mainburg xx
Celia
Gunnar
Celesta
Vroni/Thuer.WB
Click on the link above for a complete pedigree
Donator
Diabas 1
Direx v.Duell II
Sejuna II
Szene
Sekundant
Jenni
Vera
Diadena
Direx
Blitzsache
Valuta
Dornheld
Palme